Personnel
Abgott has parted ways with drummer Antichrist, who has been replaced by Megiddo… Dennis Pepa has stepped away from his bass duties with Death Angel. Pepa's last show was at the Grand Ballroom in San Francisco on October 28 … Dan DeVero's former partner, Gorgoroth frontman Gaahl, claims to have received death threats from the black metal community after Gaahl publicly exited the closet and acknowledged that he is gay… Former and current members of Assuck, Obituary, Six Feet Under, Down by Law, Denial Fiend and Paineater have joined forces to create Exitsect, a dark, experimental, atmospheric, doom-ridden, death metal band… It features vocalist Paul Pavolich, Joe Kiser and Sam Williams (guitars), Frank Watkins (bass), Greg Gall (drums) and Aleks Vasic (electronic ornamentation)… Former Vader / Behemoth bassist Marcin "Novy" Nowak has joined Polish thrash / death metal band Virgin Snatch, which released their fourth album Act of Grace on November 17 through Mystic Production…
Releases
Negura Bunget's first four releases will be reissued in digipack format with improved artwork through Prophecy Productions… Reunited thrash band Believer has signed a deal with Metal Blade Records for their new studio album due in early 2009… Texas thrashers Militia have released a collection of 80's recordings titled Released through Forged In Fire (Rockadrome). The disc contains the classic Regiments of Death demo, tracks from the Sybling EP and a 24-page booklet complete with band history, photos and liner notes. The original Sybling vinyl EP was pressed in a run of 100 units and is a highly sought after piece by vinyl collections worldwide. In September 2003, a mint copy of the EP sold on Ebay for $1100…

Norway's Old Man Child (fronted by Dimmu Borgir's Galder) will release a new untitled, nine-song studio album in early 2009 through Century Media Records. Peter Wildoer of Darkane and Pestilence fame will be handling drumming duties… British thrash monsters Onslaught recorded their set at the Damnation Festival in Leeds, UK for a live album for release through Candlelight Records in early 2009… New Jersey's Whiplash will release a 25th anniversary DVD in late 2009 titled, 25 Years of Thrash… Swedish thrashers Deceiver will release their final album, Thrashing Heavy Metal, before the end of the year through Pulverized Records… Satyricon has signed a deal with Koch Records for the North American release of The Age of Nero, tentatively due in the states on January 13 and in time for the band's tour with Cradle of Filth…

Italy's Raintime will enter the studio in March / April 2009 to lay down tracks for a release in late 2009 through Lifeforce in Europe, Replica in France, Soundholic in Japan and Bieler Brother in the United States and Canada… UK based experimental / progressive extreme metal band Xerath has landed a deal with Candlelight. The band's debut disc, Xerath I, is tentatively due in the spring
Tours
Legendary German thrashers Destruction will be joined on tour by Krisium and Mantic Ritual, making a stop at Fort Worth's Lola's on March 30… Deicide and Vital Remains will team up for an American tour in February. At this time, no dates have been announced... Enslaved has cancelled their North American Vertebrae tour with Swallow the Sun and Keep of Kalessin
And then there were three
Three members of the reunited Texas thrashers Devastation [Henry Elizondo (guitar), Walter Trachsler (guitar), and Fidel Tagle (drums)] are continuing to tour with Soulfly in North America as a trio - despite the fact that Rodney Dunsmore (vocals) and Alex Dominguez (bass) have opted to leave the trek. Elizondo and Trachsler are trading off on vocals for the rest of the tour with occasional help from Incite and members of Bleed The Sky. No word on what will happen once the tour is completed.
Lemmy your ears, Mousketeers
Motorhead's song titled "Dog-Face Boy" from their Sacrifice album is featured in Bolt, a recently released Disney movie…
Deathly Tones
A ring tone website for metal heads has been created at www.TonesOfDeath.com
Artwork
The original cover artwork for Metallica's 1986 Master of Puppets recently sold at auction for $28,000.00. The final tab was $35,000.00, which included the auction house buyer fees. The auction was part of the punk / rock sale which included pieces from such artist as Ramones, Sex Pistols, The Clash, Black Flag, Led Zeppelin and Jimi Hendrix.
Game on Puckers
Dallas Stars forward Steve Ott, who suffered a broken right hand when he went to fist city with Anaheim's Steve Montador, will be out for at least a month. Teammate and Stars captain Brenden Morrow will probably be gone at least six months with a torn anterior cruciate ligament (ACL) in his right knee… As for the Texas Brahmas of the Central Hockey League (CHL), their five-game winning streak came to an end at the hands of the Oklahoma City Blazers on a recent road trip to Oklahoma City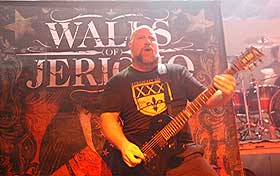 Walls of Jericho

Photo: Travis Tutwiler
Walls Of Jericho – Ridglea Theater, 11/22/08

The weather may have been cold outside, but the Ridglea was definitely heating up as Detroit's Walls Of Jericho took the stage and whipped the packed house into a frenzy. "The New Ministry" opened the set, with Candace Kucsulain's signature scream and in-your-face vocals. Chris Rawson and Mike Hasty (guitars) delivered spitfire riffs and crunchy rhythms on other new tracks "The Prey" and "The American Dream." Dustin Schoenhoffer (drums) and fill-in bassist Gregory Weeks (The Red Chord) supplied the punishing low end. WOJ is one of the most intense live bands and asks the same from their fans. The pit was circling, and the stage divers came out during "Trigger Full Of Empty Promises," "All Hail The Dead" and "A Little Piece Of Me." To make sure everyone was getting into the show, Candace climbed on the barricade to get into everyone's face. It definitely worked. (Travis Tutwiler)
Abigail Williams - Ridglea Theater, 11/9/08
Abigail Williams brought their brand of technical black metal to the Ridglea Theater on the Planetary Duality tour, which also featured Neuraxis, Veil Of Maya, Decrepit Birth and co-headliners The Faceless. The band was touring in support of their new CD, In The Shadow Of A Thousand Suns, which features session drums from Trym Torson of Emperor and Zyklon fame.
The band unleashed a sonic hailstorm, with vocalist Ken Sorceron sounding like a man possessed. Bjorn Dannov (rhythm guitarist) was locked in tight with new drummer Samus, who pounded and blasted his kit into oblivion. Mike Wilson (lead guitar) displayed awesome technicality and melody with his neoclassical solos on songs such as "Acolytes" and "The World Beyond." Thomas Plaguehammer (bass) furiously head banged as he held down the low end. It should also be noted that Plaguehammer was real happy to be there, shouting "F#ckin' Texas!" a couple of times in between songs. Although keyboardist Ashley Jurgemeyer had to sit out this tour, the band incorporated her pre-recorded tracks with the greatest of ease. After displaying a brutal. yet melodic set, the band brought their show to an epic close with "Watchtower" from their Legend EP. If you want to hear an American spin on a European flavor, check these guys out. (Adrian Hinkley)
After The Burial - The Max, 11/25/08
Back in the DF/W area a month after destroying the Ridglea Theater, Minnesota's After The Burial came to The Max - offering a short 25-minute set that pulverized everyone in attendance. "Cursing Akhenaten" and "Aspiration" kicked off the set and showed the guitar wizardry of Trent Hafdahl and Justin Lowe, as they intertwined twin harmonies, killer solos and the sub-sonic low end from their eight-string guitar attack. Lee Luoma (bass) and Dan Carle (drums) added to the thunderous groove and helped create the abrupt rhythmic shifts of double bass or mid-tempo galloping found on "Drifts" and "Rareform." ATB has officially added new vocalist Anthony Notarmaso to the fold, and his voice enhances the band's already incredible sound. ATB is a must-see band in 2009 and, lucky for you, they'll be at The Max on February 1 co-headlining with Veil Of Maya. Don't miss this show! (Travis Tutwiler)

Unearth - The March, Metal Blade
Unearth has stepped up with a crushing, guitar-laden collection of songs on The March. Guitarist Buz McGrath and Ken Susi have always shown they can play with the best of them, but they've really cut loose this time. Check out "Thy Will Be Done" and the guitar bliss of "Crow Killer." Trevor Phipps (vocals) still delivers with brute force on tracks like "We Are Not Anonymous." The low end is even more crushing, as John "Slo" Maggard (bass) has been joined by newcomer Derek Kerswill (Seemless), who adds depth behind the drum kit, especially on the title track. Every song kills, but check out "The Chosen," which finds the band offering a more heavy rock feel. The standout is the hidden track, found at the end of the untitled track 11. You gotta get your hands on a copy of this one.







(Travis Tutwiler)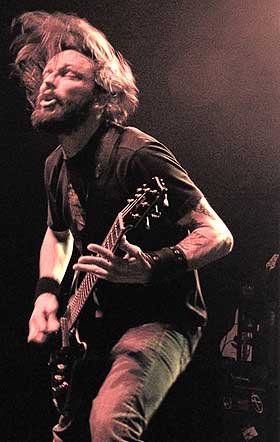 Steve Holt of 36 Crazyfists

Photo: Travis Tutwiler
36 Crazyfists - Palladium Ballroom, 11/26/08

Alaskan export 36 Crazyfists showed exactly why they landed a spot as direct support for Gojira and In Flames on their stop in Dallas. The high octane "I'll Go Until My Heart Stops" set a frenzied tempo as Brock Lindow (vocals), Steve Holt (guitar), Mick Whitney (bass) and Thomas Noonan (drums) kept the crowd moving with "Elysium" and "The Heart And The Shape." 36CF also delivered a couple of new Holt riff-heavy tracks "We Gave It Hell" and "The All Night Lights" from this year's The Tide And It's Takers. The packed floor remained in constant motion with the help of infectious grooves. The crowd and was more than happy to oblige with Lindow's request for a Wall Of Death during "Installing The Catheter." What a great way to cap off the Thanksgiving holiday. (Travis Tutwiler)
Fairytale Abuse - Perversions Of Angel IV, Blistering Records

Why is it that so many black metal bands feel the need to take perfectly killer music and gay it with pansy-sounding keyboards? Perversions Of Angel IV is drowning in them, which take away from what could have been a strong release. There are some standout tracks like the fast "At the Gates Of Thorn" and the ominous "Vivid Blood III – Natured," which combines a great mix of different moods. The vocals are reminiscent of Dark Funeral and provide a dark, eerie atmosphere, but unfortunately the keyboards kill the vibe. If you can tune them out, then you've got your hands on a great CD.


(Travis Tutwiler)
Mudvayne - The New Game, Epic Records
Mudvayne has returned with a follow up to the smash, Lost And Found, with another great collection of tracks on The New Game. Completed 18 months ago - before Chad Gray (vocals) and Greg Tribbett (guitar) took time off to record and hit the road with Hellyeah - The New Game finds that same sound fans have come to expect. You've got the heavy hitters on "Same Ol'," "A New Game," and "Hate In Me." You'll also find some radio friendly tracks in "Never Enough," "Do What You Do," and "Scarlett Letters," but the anger and drive is still there. Tribbs offers up plenty of guitar to sink your teeth into, and Ryan Martine (bass) and Matt McDonough (drums) make their presence felt through some solid work. Pick up a copy and get a free one-year fan club membership and a chance to win a VIP laminate for life.






(Travis Tutwiler)
Dead Rising - Reign of Misery, Independent
Dead Rising's maiden album, Reign of Misey was recorded and produced here in North Texas. Chicken (vocals), Casey (guitar), Paul (drums) and Brian (drums) bring a more-than-filling plate of death metal to the masses with this CD. "Bite the Bullet" displays a soft guitar-only intro reminiscent of early Metallica. Then tall that remains is the storm of swift aural attacks. The variety of guitar riffs/tones, cryptic vocals and pummeling drums/bass make those assaults obvious, engaging and exciting - leaving those creative dynamics noteworthy. "Subliminal Control" showcases each member's talent and forms a lasting impression with its chorus. Dead Rising's well-oiled machine of death will entertain the unwary. Hear tracks online at myspace.com/deadrising. (Misty Johnson)

Metalocalypse DVD - Season Two
This season of Adult Swim's Metalocalypse is an extremely brutal, hilarious and over-the-top depiction of what life is like in the world's biggest post-apocalyptic death metal band. All your favorite characters have returned including cocaine addicted Dr. Rockso, the clown. The season begins with Dethklok's return and anticipation of new record. But getting sidetracked favors the band, so the album is put on hold until the last of the 19 episodes. Throughout the season Dethklok is under fire by a group of terrorists, The Revengencers, which are trying to destroy them, though their plan never comes to fruition. Meanwhile, Nathan (vocals), Murderface (bass), Toki (guitar), Pickles (drums) and Skwisgaar's (guitar) struggles are plenty whether it be dieting, guitarists fighting over who's better, questioning a bass player's songwriting abilities, family matters or dating. They are always the center of a gruesomely morbid death field. A side note - there are deleted scenes, but you have to search for them.







(Misty Johnson)