Ridglea Theater in the news again
Déjà vu? Seems like it was about this time last year, that everyone - especially the Fort Worth area (bands, fans, media) - was all a buzz about the Ridglea Theater. Again this summer (third time now), it's the people who OWN the building - it has nothing to do with Richard and Wesley who run the popular concert venue. Nothing, except that they're once again having to fend off closing rumors... They have several years left on their lease and, in real estate law - a lease supersedes the sale of a property (building). Even if the building were to be sold… they're still staying put! With no plans to go anywhere else. Period. The latest word from Wesley (at press time) is that the property owners have filed for a Chapter 11 - a reorganization bankruptcy. Shows are still a happening!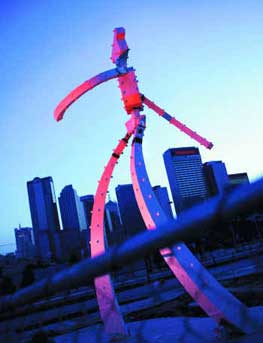 Deep Ellum's Traveling Man



Sprucing up Deep Ellum
(or you can't rush these things)
The city, everyone seems to be working towards making Deep Ellum a viable place again. Check out the giant murals on one of the buildings facing Good Lattimer. OK, so the walls aren't nearly as cool as the "tunnel." Never will be, but the murals are a nice addition. And then there's "The Traveling Man, " a giant metal sculpture with, yes, a guitar head. It's to be at the upcoming Deep Ellum DART Station (opening in mid-Sept.)

All this is perfect timing for the reopening of Trees on August 14. Owner Clint Barlow has heavily remodeled and improved the club (vacant since Dec. 2005). Bookings are a mix between touring national acts and local bands. Slow Roosevelt, Element Eighty, System Overload and Hardway Down are scheduled to kick things off the 14th. Fair To Midland follows the next night.
How to stay cool this summer
If you're a musician, practice at Musician's Exchange. Owner Jimmy Cleaver reports he got an unbelievable deal on two (2) five-ton air conditioners, which he's put in their hugh jam room. That's one of their hourly rooms, and is perfect for touring acts or bands wanting to practice their show on the large stage with an excellent sound system.
PHANTOM-X members (Kevin, Glenn, Reece and Bill) are in the studio with legendary JT Longoria recording their third CD, This Is War. It's to be released on Perris Records in February 2010.
Musicians never go away, they just recycle into other bands
According to Jim Wright, Live Wire is no more. Jim's new band is Poker Face, which is mainly doing covers. Other members are Scott (Gibson Cemetery) and Tony from Live Wire,