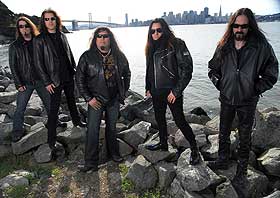 Testament - topped themselves

Testament - The Formation Of Damnation, Nuclear Blast Records

First all-new studio album since '99's The Gathering. In that time, a lot has happened. What with 9/11, the war on terrorism, and singer Chuck Billy beating Cancer, there's a lot to get off their chest. TFOD is a thrash masterpiece.
After being away for the better part of a decade doing jazz, guitarist Alex Skolnick has returned and if anything, his chops are better than ever. "The Evil Has Landed" and the grand opus of the entire Testament canon, "The Persecuted Won't Forget," might very well be the best songs Testament has ever recorded. Their catalogue is arguably one of the best the genre has ever spawned, and Testament has unbelievably topped themselves. The band is just spitting out their venom like Chinese throwing stars. The Formation Of Damnation is unstoppable. Goddamn, I gotta catch my breath.






(Dale Lammers)
Whitesnake - Good To Be Bad, SPV
One of the greatest voices in rock-n-roll has returned, better than ever! Legendary frontman, David Coverdale and company are back with the first Whitesnake studio release in a decade, Good To Be Bad. Coverdale's cohorts include guitarists Doug Aldrich (who co-wrote and co-produced the album) and Reb Beach (Winger), Uriah Duffy (bass), Timothy Drury (keyboards) and Chris Frazier (drums). The songs are instantly recognizable with that classic Whitesnake bluesy, melodic, hard rock sound. After the first listen, you'll be singing along and by the second, the songs already feel like old favorites you've known for years.
Good To Be Bad is as good as anything Whitesnake's ever done, including Slide It In and the self-titled Whitesnake album. Whether belting out a new hard rock anthem or soothing ballad, Coverdale sounds fantastic! Highlights include the title track, "Lay Down Your Love," "Best Years," "All I Want All I Need," "Summer Rain," "All For Love" and 'Til the End of Time." This is an instant classic.







(Andy Laudano)
Vaste Burai - Demo, Self-Released
Vaste Burai (meaning "of mischief") must have worn their hip waders when recording this beastly swamp of a demo. As a two piece, Cody Lollar (vocals/guitar) and Kevin Blalock (drums) waive their right to a bassist and trudge through epic arrangements that, even at low volumes, will split your eardrums.
From the sludge of "The Reconditioner" to slow burner "Gallows Hill," all four mammoth tracks deliver detuned Electric Wizard-esque guitar riffs with guttural vocals and earth-shaking drums. Each song drags you through the soggy bottom, twists and contorts to climax - only to drop you face first again.
This is a more than promising debut demo from this Longview-based duo. Be sure to check them out when they play Sluggfest at the Ridglea Theater on June 14. (D.J. Ivie)
Type O Negative - Bonus DVD (to "Dead Again") – 2008, Steamhammer
Let's start off with the negatives. The interviews on this DVD are fairly disconnected. It's always nice to get some insight into a band's life and experiences, as most of us will never walk the streets that these guys have walked the way they've waked them. But the dialog seems very unorganized.
The DVD captures a brilliant performance by the band. There appears to be cameras all over the place, and the cinematography and film editing of the DVD are most excellent! If you're a Type-O fan at all, buy it - enjoy it.






(John Flores)
Hypnosis - Album Teaser, Self-Released
Hailing from Hudderfield, UK, Hypnosis is one of the latest metal bands looking to make the jump across the pond for success in the States. With one foot planted in Black Label Society territory and the other somewhere south of Megadeth, they bring the riffage. But, despite having such a tight rhythm section, they leave something to be desired. Vocally, Mark French, who doubles as the guitarist, does not quite hit the mark. It is good enough to get the job done, but the melodies do not stand on their own and fall a little flat. Musically speaking, the tunes never truly come to fruition. It is a bit like having sex on heroin - there is no big finish. That being said, Hypnosis does show true potential, evidenced by the faster paced stylings of "Bush or Black."
Hypnotized? No. Am I getting sleepy? A little.



(D.J. Ivie)
Record Hop – Untitled, TXMF Records
There's been a lot of talk about Denton's Record Hop making a more melodic album this time around. Fans also seem to be amazed by the attention to details - something ignored on their bludgeoning debut Pareidolia. The new disc may have more of a sugary aftertaste, but hardcore Record Hop fans don't have to worry. The new tunes are just as heavy, if not more.
Imagine Jefferson Airplane, Soundgarden, and Fu Manchu performing on the same stage simultaneously, and you have a good idea of the current album. The beauty is in the balance, with numbing bass and drum lines dusted with piercing guitar riffs. Add in Ashley Cromeen's unique vocals (staccato attacks with mumbled cries), and things get quite interesting.
The disc starts out very strong with "Skirtchaser," though other tracks like "Dognapper" and "Clique" also stand out as shining stars. The only downer is the lack of a slower tune to break things up. Thirty-three minutes straight of a sledgehammer to the face is hard to take, no matter how sweet and sugary it tastes. (Jason Janik)
Various Artists – Guitar Masters, Vol 1., Bohemian Productions
There are 18 tracks and many artists on this CD released by the publishers of Guitar Player and Vintage Guitar Magazines. Despite the title ("Guitar Masters, Vol. 1"), it's not terribly impressive. However, it holds few gems. John Paul Jones' "B Fingers" is a great opener with a fairly unfinished and raw sound. Billy Sheehan's "Unleash the Beast" is a fine example of his incredible abilities on bass, plus he recorded the guitar track for this one.
Lastly, GMV1 features a cover of Stevie Wonder's, "I Wish" recorded by Randy Coven and....ready? Zakk Wylde. It's great to hear Zakk doing something that breaks away from the usual crunch (not that I'm complaining) but, as far as I can tell, this cover was done back in '92 making it a little lame to include here.




(John M. Flores)
Emmure - The Respect Issue, Victory Records
The Respect Issue is a hard slap in the face with the intro "Young, Rich And Out Of Control." It has that low end Meshuggah vibe. The disc offers plenty of low end, pulverizing riffs accompanied by Franks (vocals) and his growl/scream/spoken delivery. There are some nice breakdowns and powerful, driving tracks, like "Tales From The Burg." Sometimes the screaming can be repetitive, as can the songs themselves. But if you like metalcore and songs that are in-your-face and hint towards early Slipknot and Unearth, then check out The Respect Issue. You might find yourself screaming along.



(TravisTutwiler)